Zapatista Mural in Kerouac Alley
On April 11, 1998, Taniperla, a village of some 1,500 Tzeltal Mayan campesinos, was invaded by the Mexican Army. At dawn on that day, an armed force of 1,000 federal troops entered the village. The army arrested local leaders, burned houses, cornfields and coffee plantations, and occupied the village. Along with several other Mexican nationals, Sergio Valdéz was beaten and arrested. The mural "Vida y sueños de la cañada Perla" [Life and Dreams of the Perla River Valley] was demolished. Twelve international human rights workers, including three Bay Area residents who happened to be in the village at the time of the invasion, were arrested and held by the federal police for 36 hours before being deported and barred from ever returning to Mexico.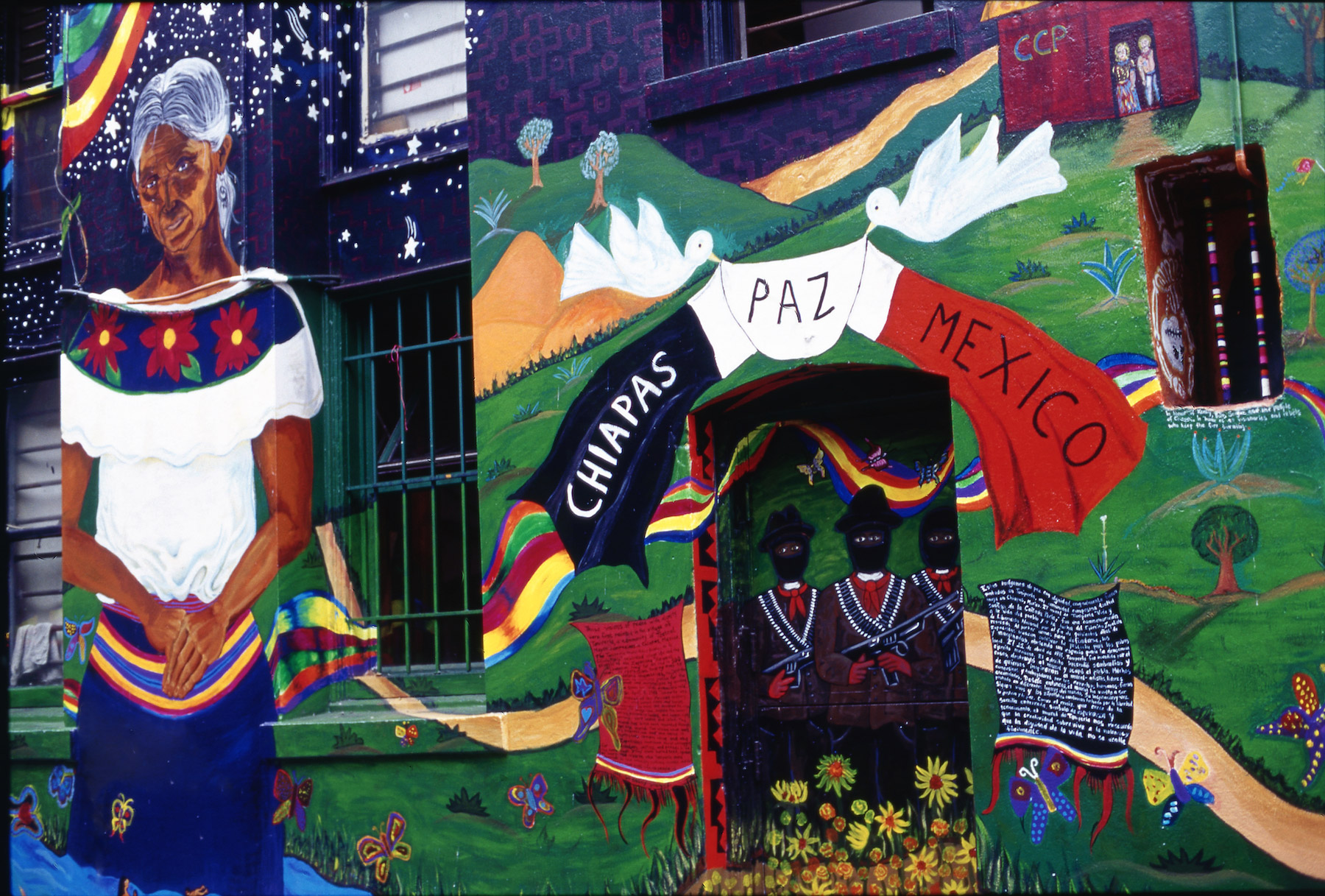 Sergio Valdéz was sentenced to nine years in prison on charges of "rebellion" for having designed the mural. However, after almost a year-and-a-half of protest and pressure from human rights organizations, Sergio and many of the other prisoners from Taniperla were freed, though many of the other political prisoners in Chiapas remain in dire circumstances.
Although the original mural was destroyed, photos of it were preserved and shared. Shortly after the invasion of the village, the international witnesses to the invasion began a campaign to reproduce the mural in sites around the world as a gesture of support for the Indigenous peoples' struggle in Mexico. Thus far, the mural has been painted in Barcelona, Madrid and Bilbao, Spain; Florence, Italy; Mexico City, Oakland, and on the side of City Lights Bookstore in San Francisco, California.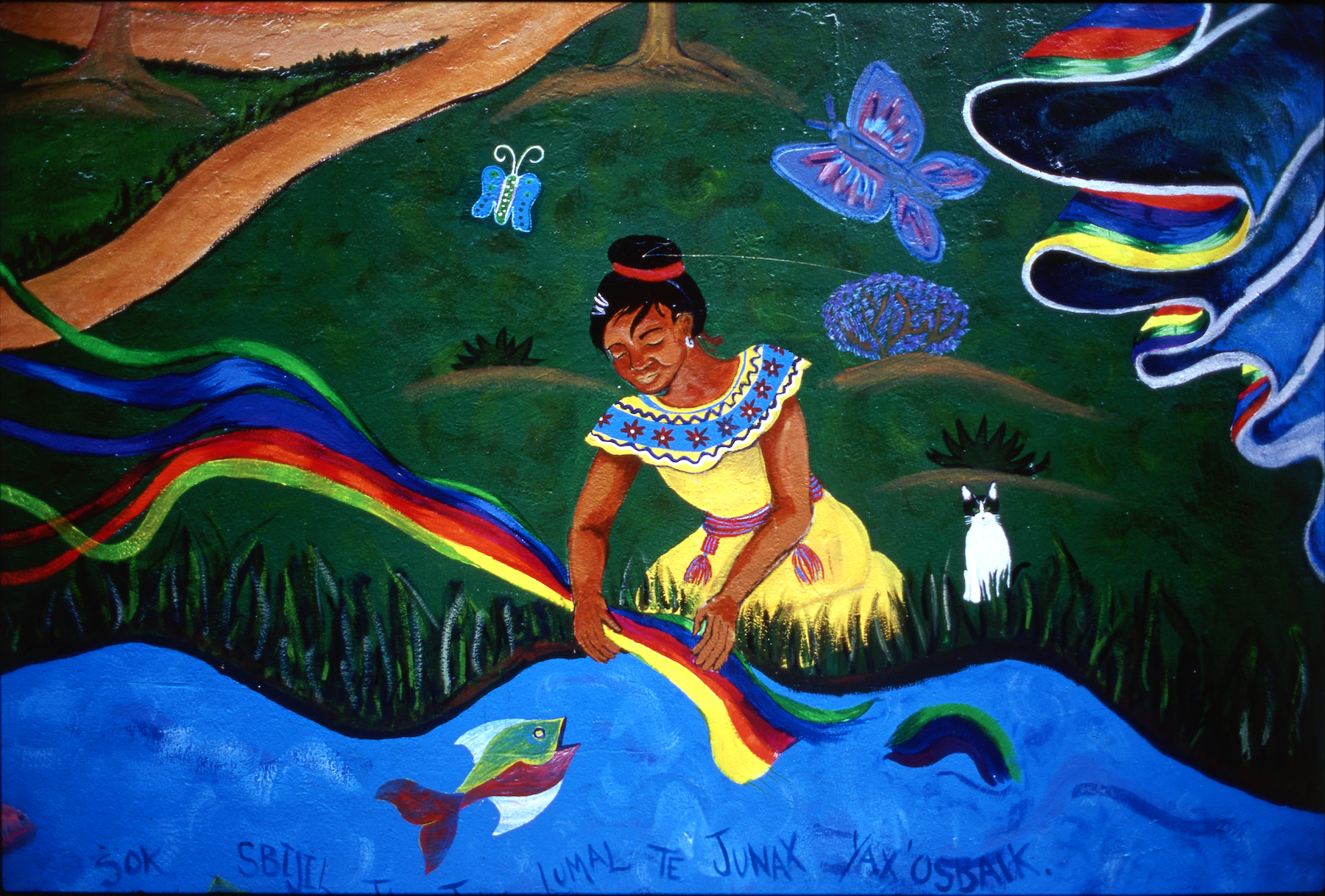 In 2000, a group of local artists and activists painted the mural on the wall of City Lights Books, covering the Jack Kerouac Alley side of the building. In the spirit of the Zapatista slogan "Todo para todos, nada para nosotros" [Everything for everyone, nothing just for us] the work was completed by a volunteer brigade of painters.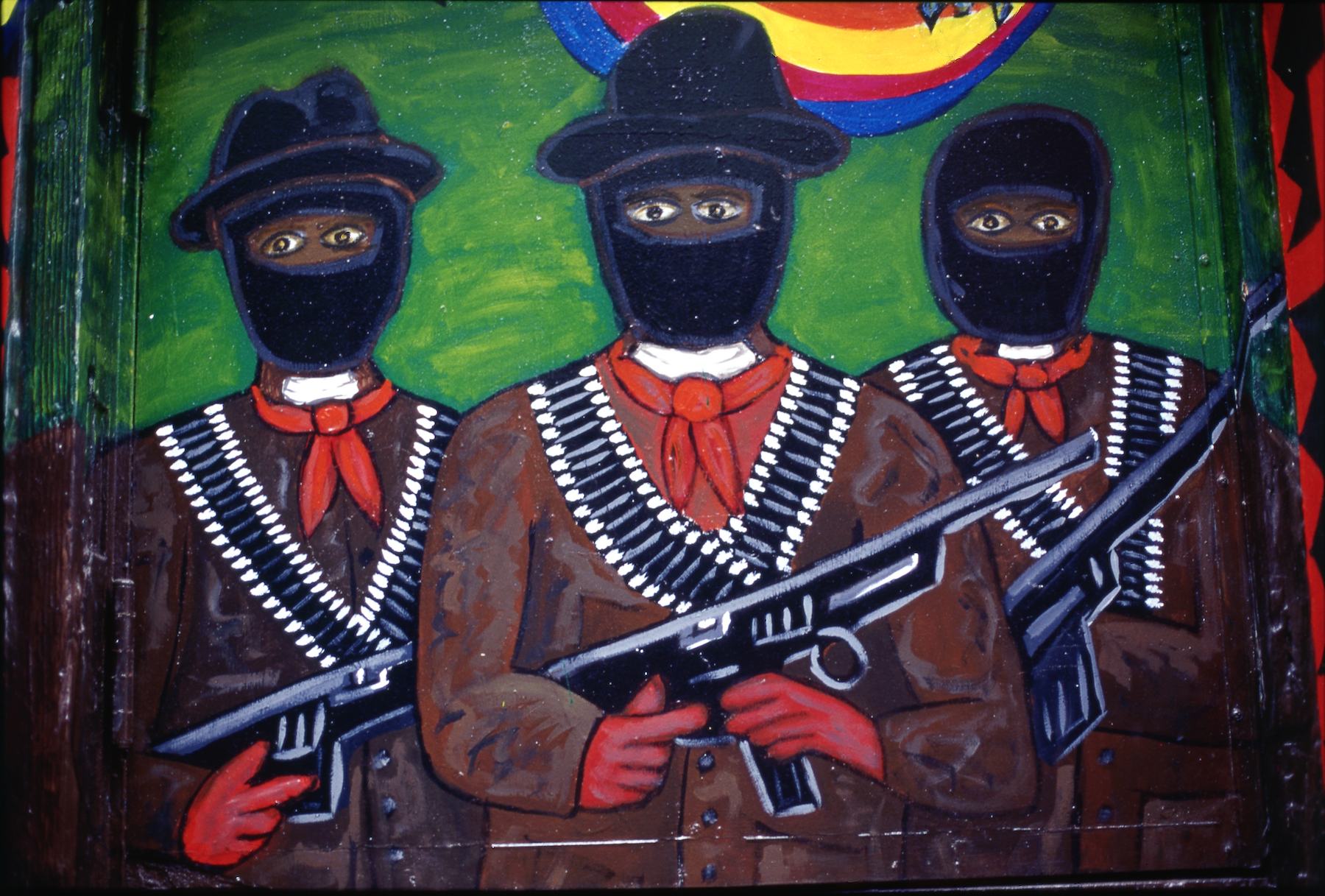 Since then the mural has formed a vivid, inspiring backdrop for countless events, celebrations and photo shoots staged in Kerouac Alley. In 2019, City Lights secured a Legacy Business Grant from the city of San Francisco to help fund the mural's restoration, which was completed by Yano Rivera and Ernest Paul of the Precita Eyes Muralists Association, a legendary San Francisco community-based mural arts organization.