City Lights in conjunction with W.W. Norton, Pluto Press, and Verso Books present
Deconstructing Oligarchy: How Wealthy Elites Undermine Democracy And Our Survival On The Planet
with Nancy Fraser, Robert Ovetz, and Douglas Rushkoff
Join us for a day-long series of talks taking a deep dive into the methods and philosophy of oligarchs and what can be done to resist them. Celebrating the publication of three new books about how a class of the very few attempt to usurp democratic rule and bring the environment to the brink of disaster. Nancy Fraser discusses Cannibal Capitalism, Robert Ovetz discusses We The Elites, and Douglas Rushkoff discusses Survival of the Richest. Three seasoned critics explore a range of subjects aimed to expose those few who seek to benefit themselves at the expense of the many.
Session One – We the Elites: Why the US Constitution Serves the Few – with Robert Ovetz  – Saturday September 24, 2022, 12 pm (noon) PT / 3pm ET
Register Here
Session Two – Survival of the Richest: Escape Fantasies of the Tech Billionaires – with Douglas Rushkoff – Saturday September 24, 2022, 2pm PT / 5pm ET
REGISTER HERE
Session Three – Cannibal Capitalism: How Our System Is Devouring Democracy, Care, and the Planet—and What We Can Do About It – with Nancy Fraser – Saturday September 24, 2022, 4pm PT / 7pm ET
REGISTER HERE
Session Four – Panel discussion with Nancy Fraser, Robert Ovetz, and Douglas Rushkoff, moderated by Peter Maravelis (City Lights) – Saturday September 24, 2022, 5pm PT / 8pm ET
REGISTER HERE
About the Sessions and the Speakers:
Session One
Robert Ovetz – We The Elites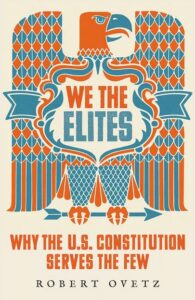 Pre-order Book Here
Written by 55 of the richest white men, and signed by only 39 of them, the US constitution is the sacred text of American nationalism. Popular perceptions of it are mired in idolatry, myth and misinformation – many Americans have opinions on the constitution but have little idea what it says.
This book examines the constitution for what it is – a rulebook for elites to protect capitalism from democracy. Social movements have misplaced faith in the constitution as a tool for achieving justice when it actually impedes social change through the many roadblocks and obstructions we call 'checks and balances'. This stymies urgent progress on issues like labour rights, poverty, public health and climate change, propelling the American people and rest of the world towards destruction.
Robert Ovetz's reading of the constitution shows that the system isn't broken. Far from it. It works as it was designed to.
Robert Ovetz is a Senior Lecturer in Political Science at San José State University. He is the author of When Workers Shot Back: Class Conflict from 1877 to 1921 and the editor of Workers' Inquiry and Global Class Struggle.
Session Two
Douglas Rushkoff – Survival of the Richest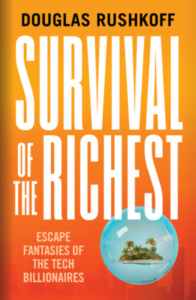 Purchase Book Here
Five mysterious billionaires summoned theorist Douglas Rushkoff to a desert resort for a private talk. The topic? How to survive the "Event": the societal catastrophe they know is coming. Rushkoff came to understand that these men were under the influence of The Mindset, a Silicon Valley–style certainty that they and their cohort can break the laws of physics, economics, and morality to escape a disaster of their own making—as long as they have enough money and the right technology.
In Survival of the Richest, Rushkoff traces the origins of The Mindset in science and technology through its current expression in missions to Mars, island bunkers, AI futurism, and the metaverse. In a dozen urgent, electrifying chapters, he confronts tech utopianism, the datafication of all human interaction, and the exploitation of that data by corporations. Through fascinating characters—master programmers who want to remake the world from scratch as if redesigning a video game and bankers who return from Burning Man convinced that incentivized capitalism is the solution to environmental disasters—Rushkoff explains why those with the most power to change our current trajectory have no interest in doing so. And he shows how recent forms of anti-mainstream rebellion—QAnon, for example, or meme stocks—reinforce the same destructive order.
Douglas Rushkoff is professor of media theory and digital economics at Queens/CUNY. Named one of the world's ten most influential intellectuals by MIT, he hosts the Team Human podcast and has written many award-winning books that include Team Human, Mind over Media, and his most current Survival of the Richest. He lives in Hastings-on-Hudson, New York.
Session Three
Nancy Fraser – Cannibal Capitalism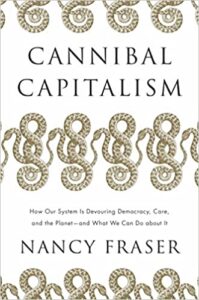 Purchase Book Here
Capital is currently cannibalizing every sphere of life–guzzling wealth from nature and racialized populations, sucking up our ability to care for each other, and gutting the practice of politics. In this tightly argued and urgent volume, leading Marxist feminist theorist Nancy Fraser charts the voracious appetite of capital, tracking it from crisis point to crisis point, from ecological devastation to the collapse of democracy, from racial violence to the devaluing of care work. These crisis points all come to a head in Covid-19, which Fraser argues can help us envision the resistance we need to end the feeding frenzy.
What we need, Nancy Fraser argues, is a wide-ranging socialist movement that can recognize the rapaciousness of capital – and starve it to death.
"Nancy Fraser is a legendary radical philosopher grounded in the best of the Marxist and feminist traditions yet whose genuine embrace and profound understanding of Black, ecological, immigrant and sexual freedom movements make her a unique figure on the contemporary scene! Cannibal Capitalism is not only a singular gem – it is an instant classic for our bleak times!"
– Cornel West, author of Race Matters
Nancy Fraser is Henry and Louise A. Loeb Professor of Philosophy and Politics at the New School for Social Research. She is the author of Fortunes of Feminism and The Old is Dying and the New Cannot be Born, and co-author of Capitalism: A Conversation and Feminism for the 99%.
Session Four
Nancy Nancy Fraser, Robert Ovetz, and Douglas Rushkoff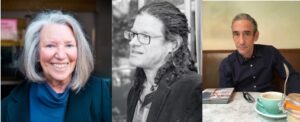 All three of the participants in Deconstructing Oligarchy come together for a final assessment of the day's talks. The session will be moderated by Peter Maravelis of City Lights.

All sessions are free but require registration.
This event was made possible by support from the City Lights Foundation.
Learn more at
https://citylights.com/foundation/