Celebrating her new book Family Album: Stories with City Lights, we're pleased to present an interview with Gabriela Alemán! The story collection was translated from the Spanish by Dick Cluster and Mary Ellen Fieweger.
Gabriela Alemán was born in Rio de Janeiro, Brazil. She received a PhD at Tulane University and holds a Master's degree in Latin American Literature from Universidad Andina Simón Bolívar. She currently resides in Quito, Ecuador. Her literary honors include: a Guggenheim Fellowship in 2006; member of Bogotá 39; a 2007 selection of the most important up-and-coming writers in Latin America in the post-Boom generation; one of five finalists for the 2015 Premio Hispanoamericano de Cuento Gabriel García Márquez (Colombia) for her short-story collection La muerte silba un blues; and winner of several prizes for critical essays on literature and film. Her novel Poso Wells was published in English translation by City Lights in 2018.
Stay updated on Alemán's author tour, which includes both in-person and virtual events, including an event in the City Lights LIVE discussion series on Wednesday, May 18th!
---
Tell us a little bit about your book.
Family Album is a collection of eight short stories that explore minor characters in Ecuadorian pop-folklore or lesser-known episodes of Ecuadorian contemporary history. The idea behind the title (a photograph album) is that in each story Ecuador can, in some ways, be thought of as the "frame" of the story, while the "inside," or the "photographs," are the stories themselves, which are more universal in theme and deal with sickness, dreams, memories, identity, beliefs, fame, violence, desire, and friendship.
What inspired you to write Family Album?
Ecuador is not a well-known country in cultural/social/economic terms. The reasoning behind writing these stories was to think through Ecuador's place in the world or, rather, to show that it was always there (although in the periphery). The gold that pirates ransacked from Ecuador fed the Industrial Revolution, the template for destruction in the Amazon region. This was in many ways tied to religious conversion, evident in the growing role of missionaries in the 1950s.
How long did it take you?
Most of these short stories stem from real-life events that I wrote journalistic articles about. This includes the U.S. "Biddy Basketball" championship in the 1960s, the "Galapagos Affair," and the infamous John Wayne Bobbitt. I found that there were pieces of each account that were missing and that I could not speculate about. So I looked to fiction to write a fuller, more interesting story. So, even though I wrote the book in one year, it took close to ten to get the research done.
Do you have any stories to share about your work on the book? Struggles? Breakthroughs?
I lived in the Galapagos for close to four months, and learned to scuba dive so I could describe how one of the characters feels underwater. I read a slew of history books about pirates, the Ecuadorian Amazon region and the inhabitants of the Galapagos in the 1930s. I put my PhD dissertation about Ecuadorian films from the 20th and early 21st century to good use, too. For example, one of the stories mentions "El Santo," the masked wrestler, who shot a film in Ecuador in the 1970s. I used all the materials I had found when researching my dissertation to contextualize the story, and to give it its atmosphere.
Who or what were the largest influences on this book?
There were a lot of influences when thinking about the book and what stories would be in it. Once I knew there would be a story set in the Amazon region, I couldn't write about the idea of the "jungle" without going back to Conrad or Humboldt; or write about "islands" without thinking of Daniel Defoe; or the Galapagos without rereading Darwin and his diaries; or when thinking about melodrama, imagining Néstor Perlongher's take on it.
Can you talk about the independent publishing world in Ecuador and your own role in it?
In the past five to eight years a number of small presses have emerged in Ecuador, most of them are publishing new authors, but in El Fakir we are doing an archeology of sorts, and introducing "new" genres that do not have a long tradition in Ecuadorian literature. So, we are going back to authors and books that have been "forgotten" so that they can be read again in a new light. Some of our "hits" include an anthology of 19th century Ecuadorian horror fiction and another anthology of Ecuadorian science fiction.
We are also attempting to introduce teenagers to graphic novels and comics. Our ex-libris collection has contemporary authors, but we have also adapted the short stories of César Dávila Andrade, one of the most interesting 20th century Ecuadorian writers, to the sequential art format. We have twelve different collections that range from poetry to biographies. Last year we published the biography of Neisi Dajomes, a woman who won the first Olympic gold medal for weightlifting in Ecuador's history.
Can you talk about your career as a professional basketball player?
I played in the Swiss league with Ecolint and in a professional team in Paraguay, Club Olimpia. My position was center on both teams. My career ended with an injury to my right knee. I come from a long line of basketball players. One of my uncles played in Ecuador and both of my brothers were on the national team.
Tell us more about the Latin American Writers Series at Tulane University.
In 2019 we started a writer's series in the Latin American Studies Department at Tulane. The interviews, story maps, and timelines of eight writers from different countries, backgrounds and interests can be found here. It is an ongoing project. This year we will host Alejandro Zambra, Liliana Colanzi, Dolores Reyes, and Rodrigo Fuentes. The digital archive is full of materials for teachers, students, and readers to enjoy and learn more about the literature that is produced in Latin American today. By the end of 2022 we will have the interviews with subtitles in English.
---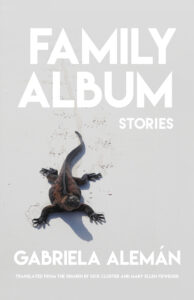 Family Album is out now from City Lights Publishers, and is available at 30% off when ordering from our website.