Pictured: original piece by Julien Poirier from his mailed poetry chapbook/assemblage series, Night Mail.
By Garrett Caples
Two of the most heinous mass shootings in the U.S. in recent memory took place within 10 days of each other: the racially motivated murder of 11 people, 10 of them Black, at Tops Market in Buffalo, NY, on May 14, 2022 and the murder of 19 children and two adults, most of them Latinx, at Robb Elementary School in Uvalde, TX, May 24, 2022. Several others were wounded in both incidents. The latter incident comes on the heels of the Republican-controlled Texas State Legislature and Governor Abbott weakening the already meagre restrictions around gun ownership, including allowing permitless carrying of handguns in public as of September of last year.
It is difficult to know what to do in the face of the failure of the U.S. government to enact even the most tepid measures aimed at curbing gun violence. On the evening of the 24th, along with other subscribers to Julien Poirier's Night Mail periodical, I received an attached audio file in my inbox of his recent untitled poem, "Guns are symbols of arrogance and failure." Julien is one of the poets of our City Lights Spotlights Series, author of Out of Print (2016), a magnificent volume of visionary, politically infused poems and we wanted to post the text and audio of this poem, along with a short Q&A, here on our blog, if only reaffirm our commitment to the pacifism of our founder, Lawrence Ferlinghetti.
Those interested in Night Mail can contact Julien at subliminalmetro@gmail.com.
---
Garrett Caples: What made you write this poem?
Julien Poirier: I wrote it on the morning of the Buffalo massacre. After meditating I had a strong urge to write the first few words. Didn't hear about the massacre till later that day. I was thinking about the anti-abortion crusade. Man's need to control woman's body is grounded in his right to take life at will. The cult of guns is a cult of mother-hatred.
GC: What do you make of this experience, as a poet, getting those opening words after meditating? Were these opening lines immediately connected for you to the Buffalo shooting when you heard about it later that day?
JP: I connected the poem to the shooting right away, and it made me remember something I'd half-forgotten because it was supposed to have been erased from my mind by the Muse: On the questionnaire that every infant poet fills out there is a line that says: "Do you agree to receive and transmit signals and warnings from the group mind, even terrifying ones?" Most of the poets I know checked "Yes."
GC: What do you make of the fact that the Robb Elementary School shooting took place even before you had the opportunity to send your friends and Night Mail readers this poem responding to the Buffalo Tops Market shooting?
JP: My poem wasn't meant to be topical but it became topical and its weaknesses show as a result. If I had known that either one of these massacres was going to happen—and all of us should know that we are now right on the edge, every minute of every day—I would have written a much different poem, one that the kids who were murdered would have been able to laugh at and really enjoy. Those kids remind me of the ones I've been teaching in elementary schools for the last twenty-five years. If you look at the eyes and the postures and the expressions of those kids in their group obituary, you'll see everything that's worth fighting for in this world. And you'll understand that you only ruin it if you fight. I would have written a poem that the people who rolled out of bed and ended up going shopping at the Tops Supermarket that day would have been able to appreciate, words about silly overlooked details that radiate pleasure in their search for breath. What else is there to do?
GC: This is obviously too big a question to fully address but what do you think poetry and art's capacity to address a tragedy like this? Is it simply the fact that poets and artists can't not address it or is there a hope that art can help effect change?
JP: When violence isolates me from others, art restores a feeling of kinship. It helps me to see that I was never alone, that my global community of loving and creative people was there all along. Art doesn't change anything; it just shows us what's already there. At the very same time, even as it tunes us into the tribe, art gets us high on intimations of extreme individuality—fantasies of total self-sufficiency, embodied by the mind-of-its-own art object as it jettisons the creator to cross borders from birth into life into death. So all of that works out as a way of allowing us to absorb the extreme horrors of life without despairing or cracking. Even the word "art" makes me want to laugh!
GC: Among your activities around this poem, you're emailing it to all 100 American senators. If you were able to address them directly, what would you say to them?
JP: Please speak to us with the candor of a 3rd grader. You could once do this in your sleep, and it's never too late to start again.
"Guns are symbols of arrogance and failure"
Guns are symbols
of arrogance and failure—
always and everywhere
they appear in the hands
of broken men who try
to hide hot tears they cry
for the child within
with hot lead—every time,
every time
without exception the gun
is a symbol
of failure just like a dead
fish
symbolizes
a dead fish
If it could speak
in that rapt
dimensionless voice—a cry
for help with no heart
that makes every heart
race, that freezes
my little girl in sleepless
nightmare developing
like a Polaroid
in her menstrual blood
The eyeless armless
monster that killed
Gandhi
Malcolm X
John Lennon
That hunts women
through gardens of neon
that should be Edens
and would be—and
would be— —
The fascinating hard-
body dead-end dump
of men's self-
sorrow for drowning
their childhoods
in the spit of small
mother-hating monsters
of emasculated manhood
with navels airbrushed
out. How could guns be
anything but symbols
of arrogance and failure?
Yet
you sleep with one
in your teeth
and fuck it
after turning your girlfriend
into a 6-pack
and a pizza.
---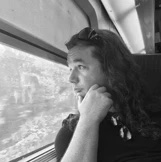 Garrett Caples latest book of poems is Lovers of Today (Wave Books, 2021). He's the editor of Philip Lamantia's Preserving Fire: Selected Prose (2018), Samuel Greenberg's Poems from the Greenberg MSS (2019), and Michael McClure's Mule Kick Blues and Last Poems (2021), as well as the co-editor of The Collected Poems of Philip Lamantia (2013), Particulars of Place (2015) by Richard O. Moore, Incidents of Travel in Poetry: New and Selected Poems (2016) by Frank Lima, and Arcana: A Stephen Jonas Reader (2019). He is an editor at City Lights Books, where he curates the Spotlight Poetry Series. He has a PhD in English from the University of California, Berkeley, and lives in San Francisco.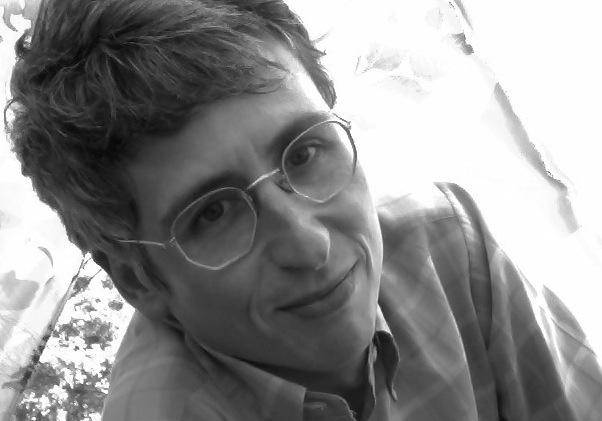 Julien Poirier is the creator of Night Mail and has taught poetry in the New York City and San Francisco public schools and at San Quentin State Prison, and was a founding member of the Ugly Duckling Presse Collective. His latest book is Out of Print (City Lights, 2016). For Ugly Duckling, he has edited such volumes as Jack Micheline's One of a Kind (2008), Steve Dalachinsky's In Glorious Black & White (2005), and two editions of Cedar Sigo's Selected Writings (2003, 2005), as well as co-editing the periodicals 6×6 and New York Nights. With Garrett Caples, he is the co-editor of Frank Lima's Incidents of Travel in Poetry: New and Selected Poems (City Lights 2015).