Generating Future Forms: Bay Convergences of Art and Music 1958-1972
A presentation by Laura Whitcomb of Label Curatorial
City Lights celebrates the publication of DILEXI: A Gallery & Beyond – By Laura Whitcomb – Forwards by Peter Frank and Jim Newman – Produced by Label Curatorial
Check out the trailer for this event HERE
The publication Dilexi: A Gallery & Beyond is the result of 8 years of research by Label Curatorial's director Laura Whitcomb and the research director Narin Dickerson. The book presents the first accurate timeline of the seminal Dilexi gallery, founded in 1958 by Jim Newman and Robert Alexander. The Dilexi Gallery exhibited the works of Jeremy Anderson, Hassel Smith, Alvin Light, Leslie Kerr, Craig Kauffman, Irving Petlin, Deborah Remington, Jay DeFeo, Roy De Forest, Ed Moses, H.C. Westermann, Jess, amongst others. The gallery was at the nexus of California's mid-century art scene. DILEXI: A Gallery & Beyond offers the first accurate accounts of lesser known artists William Dubin, Muriel Goodwin Francis, Gary Molitor, Leslie Kerr, Arthur Richer, Alvin Light, Julius Wasserstein, Philip Roeber, Raymond Rocklin, Arlo Acton, Horst Trave, and Alan Lynch, all of whom were key participants in the California art scene and who have been overlooked through time. The first English biography of the German artist Harry Kramer is also included as well as important historical essays on the Living Theater and Ken Dewey who had strong alliances with Bay Area alternative performance and theater. The book goes beyond documenting the gallery alone and ventures into the film, video and music programming projects which extended the gallery's ethos and vision. Central to the narrative of the book is the important convergences happening from 1958 to 1972 between contemporary art and experimental music. These convergences in San Francisco would prove to be key inceptive roots of the art and music of the late 60s and the currents of minimalism and conceptualism that followed.
This evening's presentation shall be arranged in different parts.
Opening discussion – Laura Whitcomb in conversation with Peter Maravelis of City Lights
Followed by a special series of pre-recorded segments: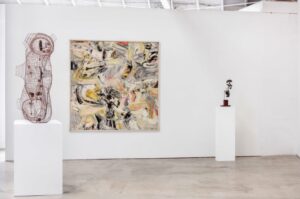 The Birth of A Gallery – 15 minutes
 – Jim Newman interviewed by Whitcomb will speak of the early years as a student at Stanford meeting Walter Hopps and their visits to artist run galleries, bars and venues in the years 1955-1958 seeking new directions in jazz and new art. His early years recruiting artists from the 6 Gallery and the Jazz Cellar join his recollection of jazz performances with Hopps and visiting the 6 Gallery and The Place. He will speak of establishing a gallery with the artist poet Robert Alexander (Baza) and the first Dilexi gallery above the Jazz Workshop on Broadway. He will recall many of the jazz legends as well as discussing Wally Hedrick a member of Studio 13 Jass Band mentoring Jerry Garcia at Painterland where he and Wally lived.
Jazz samples – 5 minutes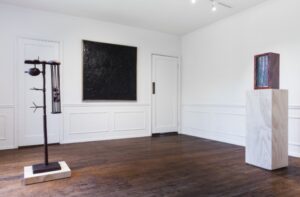 New Documentation – 8 minutes -Laura Whitcomb and Narin Dickerson, the research director of the Dilexi book, will speak briefly on important artists that are being chronicled for the first time, distilling what importance their stories offer to California history as well as their connections to music. These include Irene Taverner, a close friend of Charlie Parker, as well Julius Wasserstein, Henry C. Rollins and others, concluding with a discussion about the sound art pieces of Robert Comings which have been written about by Thomas Albright, art critic, art historian, and writer for Rolling Stone. Also included will be a brief discussion of the artist Lee Romero doing a light show at Dilexi during one Hassel Smith's solo shows, and artist Richard Shaw's "Walking in the Park" release for Dilexi Records as part of his show.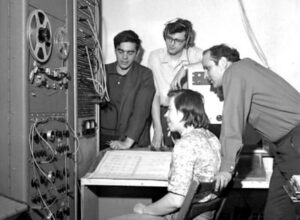 San Francisco Tape Music Center – 20 minutes
 – Morton Subotnick will discuss his collaboration with Anna Halprin for Parades and Changes as well as providing a brief overview of composers who collaborated with Halprin, Terry Riley, Warner Jepson, which will have playing music samples.
Interview – Morton Subotnick and Ramon Sender – 10 minutes
 – Morton Subotnick and Ramon Sender discuss "Divisadero" where Dancers' Workshop, Canyon Cinema, KPFK and San Francisco Tape Music Center shared space. He will speak of the Trips Festival which saw Halprin perform and catalyzed The Summer of Love into being. 20 minutes. Music samples of little-known Dilexi composer Bill Spencer.
Brief samples of composers – 5 minutes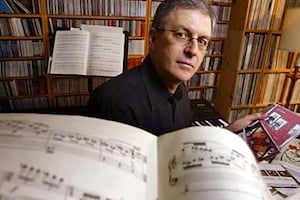 photo by Michael Macor
Charles Amirkhanian/ Other Minds – 20 Minutes
 – Charles Amirkhanian discusses his work with Ceremony of Us and working with poet artist Liam O'Gallagher and architect Lawrence Halprin and Anna Halprin on performance Ceremony of Us (first multiracial dance performance) before establishing Other Minds with Jim Newman
Dilexi Films – 10 minutes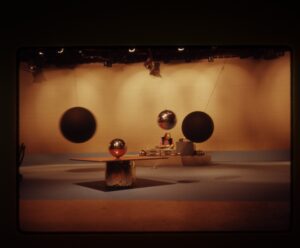 Anna Halprin and Dilexi Collaborating with Composers: 15 minutes – Laura Whitcomb will speak of Anna Halprin's collaborations with composers Warner Jepson, Bill Spencer, Terry Riley, La Monte Young, Morton Subotnick, Luciano Berio and Pauline Oliveros. She will also discuss how they formed key interconnections with the Dilexi Gallery and Foundation and the future of Other Minds. She will also speak with Riley about making the film Music with Balls mentioning his Chasing Satie piece for the Dilexi closing ceremony in 2019 produced with Dublab. Robby Herbst will speak of Anna's influence on Bay Area rock bands and the music historian Pat Thomas will speak of La Monte Young and Riley's connections to John Cale, The Fugs etc as well as how Riley's Music with Balls revolutionized music.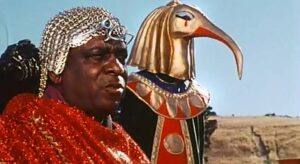 Space is the Place excerpt – 8 Minutes
John Szwed on Sun Ra – 6 minutes
Music Samples – 6 Minutes
Chip Lord and Curtis Shrier – 5 minutes
Ant Farm Interviews Chip Lord and Curtis Shrier on their console design for Sun Ra and work with Newman
Jim Newman on the animation project  – 4 minutes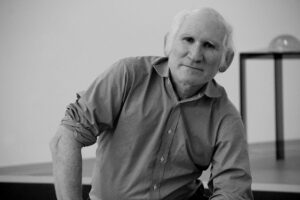 Peter Frank – 5 minutes
Art Critic Peter Frank the influence on artists today
Closing discussion with Laura Whitcomb and Q&A with the audience
Laura Whitcomb has curated exhibitions featuring artists Peter Alexander, Ruth Asawa, Jean-Michel Basquiat, Larry Bell, Billy Al Bengston, Tony Berlant, Wallace Berman, John Chamberlain, Bruce Conner, Salvador Dalí, Roy De Forest, Tony DeLap, Claire Falkenstein, Frank Gehry, Joe Goode, Wally Hedrick, David Hockney, Alfred Jensen, Robert Mapplethorpe, Robert Morris, Ed Moses, Ron Nagle, Paulina Peavy, Deborah Remington, Charles Ross, Ed Ruscha, H.C. Westermann and Beatrice Wood. Exhibitions that have focused on the convergence of fine art and music include Harry Bertoia, John Cage, Lou Harrison, Warner Jepson, Harry Partch, Sun Ra and Karlheinz Stockhausen. Photography shows include Jean Clemmer, Patrick Demarchelier, George Hurrell, Robert Mapplethorpe, Helmut Newton, Mathew Rolston and Arthur Tress. Laura Whitcomb has explored the history of contemporary art in California with a particular focus on the impact of Dada and Surrealism which were key to the gestation of Abstract Expressionism, the Light and Space Movement, Funk, and California Conceptualism.
Label Curatorial develops exhibitions, catalogs, auxiliary programming, site-specific work, performances and public discussions for art institutions, galleries, museums, cultural and educational centers worldwide. The curatorial exhibitions are painstakingly researched bringing in field experts internationally through a network of scholar alliances while consulting the curatorial's own research archive that has been amassed over a period of 30 years. Label Curatorial offers a full-service operation maintaining and establishing historical archives and databases and scholarship on little-known artists and movements that have altered and enriched the historical record of American and European art.
This event was made possible with the support of the City Lights Foundation. To learn more visit: https://citylights.com/foundation/