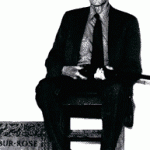 William Seward Burroughs II (February 5, 1914 – August 2, 1997) was an American writer, visual artist, spoken word performer, and chaos magician credited as a primary figure of the Beat Generation and a major postmodern author who influenced popular culture and literature.
Burroughs wrote eighteen novels and novellas, six collections of short stories and four collections of essays, and five books have been published of his interviews and correspondences. He also collaborated on projects and recordings with numerous performers and musicians and made many appearances in films. He was also briefly known by the pen name William Lee.
Burroughs created and exhibited thousands of paintings and other visual artworks, including his celebrated 'Shotgun Art'. In 1983, Burroughs was elected to the American Academy and Institute of Arts and Letters.
In 1984, he was awarded the Ordre des Arts et des Lettres by France. Jack Kerouac called Burroughs the "greatest satirical writer since Jonathan Swift," he owed this reputation to his "lifelong subversion" of the moral, political, and economic systems of modern American society, articulated in often darkly humorous sardonicism. J. G. Ballard considered Burroughs to be "the most important writer to emerge since the Second World War," while Norman Mailer declared him "the only American writer who may be conceivably possessed by genius".