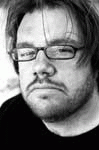 Sinan Antoon's teaching and research interests lie in pre-modern Arabo-Islamic culture, and contemporary Arab culture and politics. His dissertation, "The Poetics of the Obscene," is the first study of the 10th-century Arab poet Ibn al-Hajjaj. In 2002, he was awarded a Mellon Grant to support his research in the Middle East. His Gallatin course (at NYU) offerings include The Body in the Arabic Tradition, Arabic Poetry, The Qur'an, and a freshman seminar on Exile.
Antoon's poems and essays (in Arabic and English) have appeared in The Nation, Middle East Report, al-Ahram Weekly, Banipal, and the Journal of Palestine Studies, among others. He has also published a collection of poems, Mawshur Muballal bil-Huroob (A Prism; Wet with Wars), and a novel, I`jaam (with City Lights this year.) His poetry was anthologized in Iraqi Poetry Today.
He has also contributed numerous translations of Arabic poetry into English, and his co-translation of Mahmud Darwish's poetry was nominated for the PEN Prize for translation in 2004. Antoon returned to his native Baghdad in 2003 as a member of InCounter Productions to film a documentary, "About Baghdad," about the lives of Iraqis in a post-Saddam occupied Iraq, which he co-produced and co-directed. He is a senior editor for Arab Studies Journal, a member of Pen America, a contributing editor to Banipal, and a member of the editorial committee of Middle East Report.
Sinan was just interviewed on PRI's "The World" and "Democracy Now". I'jaam: An Iraqi Rhapsody has received excellent reviews in The Village Voice, The Los Angeles Times and elsewhere. In recent years, he was interviewed on NPR's "All Things Considered."