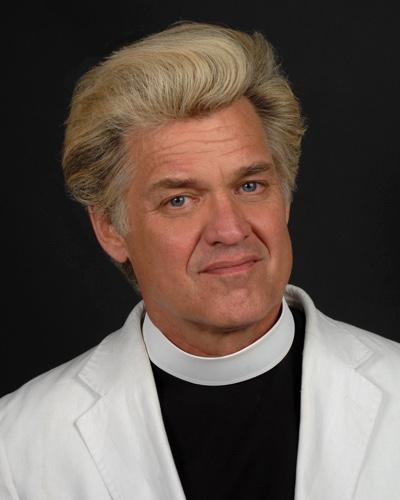 William Talen moved to New York City from San Francisco in the early 1990s, where he had originally created a character that was a hybrid of street preacher, arguably Elvis, and televangelist called Reverend Billy. In New York, Talen began appearing as Reverend Billy on street corners in Times Square, near the recently opened Disney Store. Whereas other street preachers chose Times Square because of its reputation for sin, Reverend Billy's sermons focused on the evils of consumerism and advertising—represented especially by Disney and Mickey Mouse—and on what Talen saw as the loss of neighborhood spirit and cultural authenticity in Rudolph Giuliani's New York.
Talen is the author of various books, including What Would Jesus Buy?, which was also the title of Morgan Spurlock's 2007 documentary about Reverend Billy and his mission. Though Talen does not call himself a Christian, he says that Reverend Billy is not entirely a parody of a preacher, and his Church of Stop Shopping has grown to number in the thousands.
The Church of Stop Shopping is a New York City-based community of activists who sing. The Stop Shopping Choir is, as the name suggests, anti-consumerist, and delivers its message with "punk gospel" music on Earth-loving themes.
Savitri D directs the performances in "contested space" as well as on the concert stage.The forty-voice choir and mu- sicians are guided by music director, Nehemiah Luckett.The group's theater presentations in cities across the country in- clude an annual month-long run at Joe's Pub in Manhattan's Public Theater.They recently toured with Neil Young as the opening act in his "Monsanto Years" tour. Their gospel con- certs have taken them to mountaintop removal sites, Zuccotti Park, the police station at Ferguson, Missouri, the Temple at Burning Man, Grand Central Station, and traffic jams at the entrance to the Holland Tunnel.
The company has received the OBIE Award, the Alpert Award, the Drama-Logue Award, the Edwin Booth Award, and the Historic Districts Council's Preservation Award (for leading demonstrations to save Manhattan's Poe House).The singers risk arrest together, and were taken into custody re- cently at the Spectra Pipeline, the Flood Wall Street action, which followed the People's Climate March, at Goldman Sachs near Occupy Wall Street, and in both Ferguson and New York while working with Black Lives Matter. Reverend Billy himself has been arrested over seventy times.