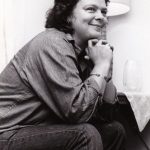 Michelle Cliff sometime in the 1980s. In 1975, she met the poet Adrienne Rich, who became her partner and died in 2012.
Obituary by William Grimes, New York Times, June 18, 2016: Michelle Cliff, a Jamaican-American writer whose novels, stories and nonfiction essays drew on her multicultural identity to probe the psychic disruptions and historical distortions wrought by colonialism and racism, died on June 12 at her home in Santa Cruz, Calif. She was 69.
The cause was liver failure, according to the Adrienne Rich Literary Trust. Ms. Cliff and Ms. Rich, the poet, were longtime partners.
Ms. Cliff's entire creative life was a quest to give voice to suppressed histories, starting with her own. Her first essay, "Notes on Speechlessness," written for a women's writing group in 1978, can be read as the keynote for her subsequent work, which navigated the complexities of her life situation — she was a light-skinned black lesbian raised partly in Jamaica and partly in New York, and educated in Britain — against the broader background of the Caribbean experience.
Her aim, she wrote in the 1991 essay "Caliban's Daughter," was "to reject speechlessness, a process which has taken years, and to invent my own peculiar speech with which to describe my own peculiar self, to draw together everything I am and have been."
Michelle Carla Cliff was born on Nov. 2, 1946, in Kingston, Jamaica. Her parents, Carl Cliff and the former Lilla Brennan, emigrated to New York soon after her birth, leaving her with relatives. She rejoined them when she was 3.
In 1956 the Cliffs returned to Jamaica, where Michelle attended the St. Andrew High School for Girls. Inspired by Anne Frank, she kept a diary, which her parents discovered and read aloud before other members of the family, an experience that deeply traumatized her and kept her from writing for decades. The incident provided the starting point for the title story of the collection "Bodies of Water" (1990).
The family came back to New York in 1960 and settled on Staten Island, in a heavily West Indian neighborhood. After earning a bachelor's degree in European history in 1969 from Wagner College on Staten Island, Ms. Cliff worked briefly as a researcher at Time-Life Books and as a production editor at W. W. Norton
At the University of London, she studied art with Ernst Gombrich at the Warburg Institute and received a master of philosophy degree in 1974 after writing a thesis on the Italian Renaissance.
She returned to Norton, where she worked as a production editor for books on history, women's studies and politics. In 1975 she met Ms. Rich, who was published by Norton.
They became lifelong partners. Ms. Rich died in 2012. Information on Ms. Cliff's survivors was not immediately available.
While at Norton, Ms. Cliff edited "The Winner Names the Age: A Collection of Writings by Lillian Smith" (1978), devoted to the Southern social reformer, and published "Notes on Speechlessness" in "Sinister Wisdom," a feminist journal of lesbian culture that she and Ms. Rich edited and published in the early 1980s. She also served on the editorial board of "Signs: A Journal of Women in Culture and Society" throughout the 1980s.
In her first book, "Claiming an Identity They Taught Me to Despise," published in 1980, she addressed the problems of identity, history and colonialism in a series of prose poems. "The Land of Look Behind: Prose and Poetry" (1985) pursued many of the same themes.
In her first novel, "Abeng" (1984), she introduced Clare Savage, a light-skinned 12-year-old Jamaican girl who befriends the dark-skinned Zoe, whose family squats on Clare's grandmother's farm. It is an idyllic relationship that cannot survive the harsh realities of race and class.
"Emotionally, the book is an autobiography," Ms. Cliff told the reference work Contemporary Authors in 1986. "I was a girl similar to Clare and have spent most of my life and most of my work exploring my identity as a light-skinned Jamaican, the privilege and the damage that comes from that identity."
Clare returns to Jamaica as an adult in the novel "No Telephone to Heaven" (1987), which, in a series of flashbacks, tells of her life in New York and London and her struggles to come to terms with who she is.
Ms. Cliff expanded her historical reach in the novel "Free Enterprise: A Novel of Mary Ellen Pleasant"(1993), telling the story of a Jamaican woman who flees her plantation and throws in her lot with Pleasant, a black hotel owner in San Francisco who worked with the abolitionists and financed John Brown's raid on Harpers Ferry in 1859.
Her later books included the short story collection "The Store of a Million Items" (1998) and the essay collection "If I Could Write This in Fire" (2008). Her last novel, "Into the Interior" (2010), captures, in flashes of prose poetry, its heroine's wanderings among different cultures and her sexual and political awakenings. As always, Jamaica remained the primary point of reference.
"I and Jamaica is who I am," she wrote in "The Land of Look Behind." "No matter how far I travel — how deep the ambivalence I feel about ever returning."