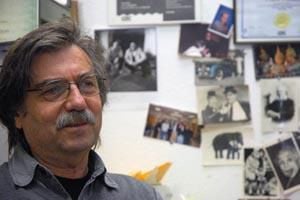 Frank Condon is a recipient of numerous honors including a National Endowment for the Arts director's fellowship and Los Angeles Drama Critic's Circle awards for both directing and playwriting. As one of the artistic directors of the Odyssey Theatre in Los Angeles, he directed several highly successful productions of new plays and was instrumental in creating the Odyssey's international reputation for exciting theatre. As staff director at the Mark Taper Forum he also staged new plays and he has been guest director in several other major regional theatres throughout the country.
Inaugural productions he has directed to open several California theatres include South Coast Reperatory's Second Stage and being invited by Luis Valdez to direct the first play in El Teatro Campesino's home theatre in San Juan Bautista. He worked with Garry Trudeau on continually up-dated and highly successful runs of his Rap Master Ronnie, in Los Angeles, San Diego, San Francisco, Seattle and Toronto. The Chicago Conspiracy Trial, which he co-wrote and directed, ran over a year, received 5 L.A. Drama Critic's Circle awards, and is heralded as a milestone in Los Angeles theatre.
He staged a Chicago version and the 15th anniversary production at the Odyssey. Among the professional schools with which he has been affiliated are the American Academy of Dramatic Art and tha Dell' Arte School of Comedy. Mr. Condon is a member of the Society of Stage Directors and Choreographers and the Dramatist's Guild.