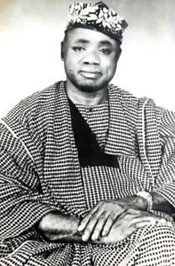 Daniel Olorunfẹmi Fagunwa MBE (1903 — 9 December 1963), popularly known as D. O. Fagunwa, was a Nigerian author who pioneered the Yoruba-language novel. He was born in Oke-Igbo, Ondo State. An Oloye of the Yoruba people, Fagunwa studied at St. Luke's School, Oke-Igbo, and St. Andrew's College, Oyo, before becoming a teacher himself.
In 1938, entering a literary contest of the Nigerian education ministry, Fagunwa wrote his Ogboju Ode ninu Igbo Irunmale, widely considered the first novel is written in the Yorùbá language and one of the first to be written in any African language. Wole Soyinka translated the book into English in 1968 as The Forest of A Thousand Demons. Fagunwa's later works include Igbo Olodumare (The Forest of God, 1949), Ireke Onibudo (1949), Irinkerindo ninu Igbo Elegbeje (Expedition to the Mount of Thought, 1954), and Adiitu Olodumare (1961).
Fagunwa's novels draw heavily on folktale traditions and idioms, including many supernatural elements. His heroes are usually Yoruba hunters, who interact with kings, sages, and even gods in their quests. Thematically, his novels also explore the divide between the Christian beliefs of Africa's colonizers and the continent's traditional religions. Fagunwa remains the most widely-read Yorùbá-language author, and a major influence on such contemporary writers as Amos Tutuola.
D. O. Fagunwa was the first Nigerian writer to employ folk philosophy in telling his stories.
Fagunwa was awarded the Margaret Wong Prize in 1955 and was made a Member of the Order of the British Empire in 1959. He died in a motor accident in 1963. Fagunwa Memorial High School and Fagunwa Grammar School in Oke-Igbo, Nigeria, are named for Fagunwa. His daughter Yejide Ogundipe serves as a council chairperson for Ile Oluji/Okeigbo