Joshua Clover is a Professor of English and Comparative Literature at the University of California, Davis, and author of Riot. Strike. Riot: The New Era of Uprisings; 1989: Bob Dylan Didn't Have This to Sing About and other books. Joshua Clover will be in conversation with Justin Desmangles in our City Lights LIVE! discussion series on Monday, September 20th, 2021 discussing his new book published by Duke University Press, Roadrunner, which tells the cultural history of the classic Modern Lovers song.
*****
Where are you writing to us from?
Two days north of San Francisco by bike. I know because a couple summers ago a friend and I rode up to Portland from SF (we started less than a mile from City Lights!) and the second night we stopped over just a couple miles from where I now live. We weren't exactly going fast. A demon cyclist could make it in a day.

What's kept you sane during the pandemic?
I learned how to swim. I learned from YouTube. I'm not very good at it but there's an outdoor pool nearby that is very lovely and I just sort of go back and forth. I can only think when I am a little bit physically tired so it's been really helpful. Also I sometimes do little bits of work with my friend Sarah and she pays me in wine, because she also works in a wine shop. She has great taste. And finally, watching people get their head around the George Floyd Uprising. It was such an astonishing event, at an incredible scale, that people are still coming to grips with it. Including me. But the hope it filled me with remains.
What books are you reading right now? Which books do you return to?
I'm reading really intensely for the book I am working on next. This sounds dutiful, but it actually makes reading-life a lot better. To have focus and push yourself, you just go, god damn it, I am ignorant about X and I really need to know about it.
So, for example, I have been trying to educate myself regarding Indigenous studies, with some advice from friends. Audra Simpson's Mohawk Interruptus: Political Life Across the Borders of Settler States was a recent title from which I learned a lot. And I spent some time learning about logistics and politics (shout out to my guide Charmaine Chua). Right now I have shifted a little and am rereading Walter Rodney's How Europe Underdeveloped Africa, which is brilliant. The book I return to most often in my life, including during the pandemic, is a tie between Marx's Capital and Di Prima's Revolutionary Letters, which gets pride of place (see attached photo).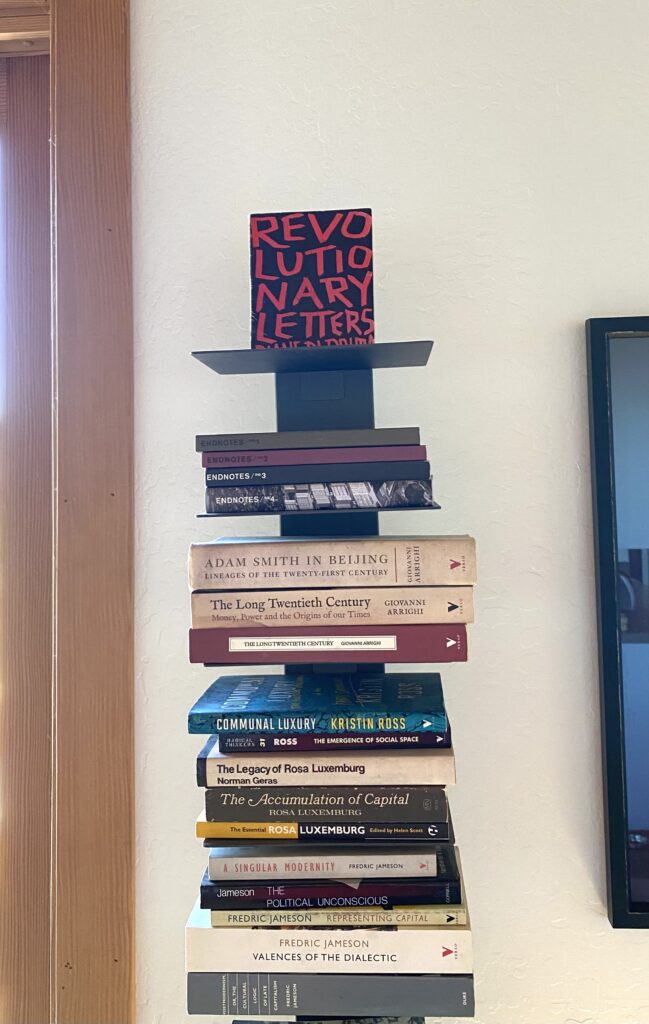 Which writers, artists, and others influence your work in general, and this book, specifically?
I'm old enough now that I can't answer that question; there are too many to name. For this book, I tried to let the songs tell me how to write, how to make a prose adequate to the task. That's not just "Roadrunner" but songs by Chuck Berry, Cornershop, and M.I.A. that are all part of the musical and historical threads I am trying to follow. Also I have a picture by the photographer Soo Kim that she gave to me, on the wall over my desk. I look at it all the time. I love her work.
If you opened a bookstore, where would it be located, what would it be called, and what would your bestseller be?
This is not quite the question you asked but it's a true story. I went to Paris for my sabbatical in 2010. I was supposed to write but I didn't. I walked around and I took naps and I read. That was the last time I read a big novel, Pynchon's Against the Day, which is magical and amazing. But also I made friends with the people at the little English language bookstore that was then in the Marais called The Red Wheelbarrow. They were understaffed. I would just hang out and chat and help straighten the place up, an old habit. And I would talk the customers into getting books, I am pretty good at that. Anyway, the owner, she was going through some difficult things, and after a while she started having me work there when she had to run off to therapy. Just cover the desk for a couple hours here and there. Which I did, happily; I wanted to help out, they were all super-nice to me.
I've been a bookstore worker since my first job. I find it calming, which is easy to say if you're not stuck there trying to make your rent. Beyond getting the employee discount that they had been giving me already. I didn't get paid, just a university prof quietly doing some volunteer retail work, selling books mostly to tourists who had gotten stuck in France because of that volcano in Iceland, do you remember this? Eventually it got toward the end of May, and it was time for me to go home, and the owner, she had decided at that time that she didn't want to be a bookstore proprietor anymore, it was time for the next chapter in her life. She just . . . offered me the store. Said I could have it if I stayed and ran it. I looked at the books and saw that in the best years it cleared 35k euro and in the worst years, it broke even. I don't have savings: breaking even means no food. So I turned her down. But not without regrets. My idea had been, I would move around the tables at night to open up the space so that we could have political meetings, we would really put the red in Red Wheelbarrow.